CHALLENGE - FreeWalkers' 154 miles: Boston to Portland (MA)
Challenge created by
Freewalkers on the ECG
6 months ago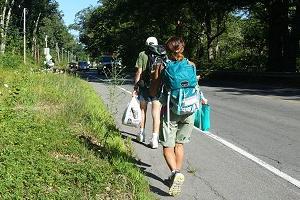 Countdown to Start
Challenge starts Thursday 20 Jul 2017
Challenge ends Friday 28 Jul 2017
About
The Boston to Portland (Maine) Expedition is a 9-day walk along the East Coast Greenway. Each year Ken, Nancy and Loredana explore new walking areas farther away in the spirit of FreeWalker exploration and adventure. This year they have chosen to walk approximately 154+ miles in nine days from Boston (MA) to Portland(MA). Last year they covered Providence to Boston and in previously years from New York City. Essentially, they are covering the East Coast Greenway by foot. Doing what no one else has done before.
Each year they invite others to join them, if even for part of the walk. Are you game for a little exploring? The East Coast Greenway Alliance is helping support the walk along the way. Willie Nelson's song 'On the Road Again' will be sung by the walkers at the start of the walk.
FreeWalkers is a non-profit organization.
Challenge Website
Find out more about this challenge at
Position Updates
Not yet checked in
| CHECKED IN | DISTANCE FROM START | CURRENT ALTITUDE | AVERAGE SPEED | DELETE |
| --- | --- | --- | --- | --- |
Have a look at more challenges on
plotaroute.com
and create a Challenge Tracker for
your
next challenge
VIEW MORE CHALLENGES
Report Inappropriate Content On This Page