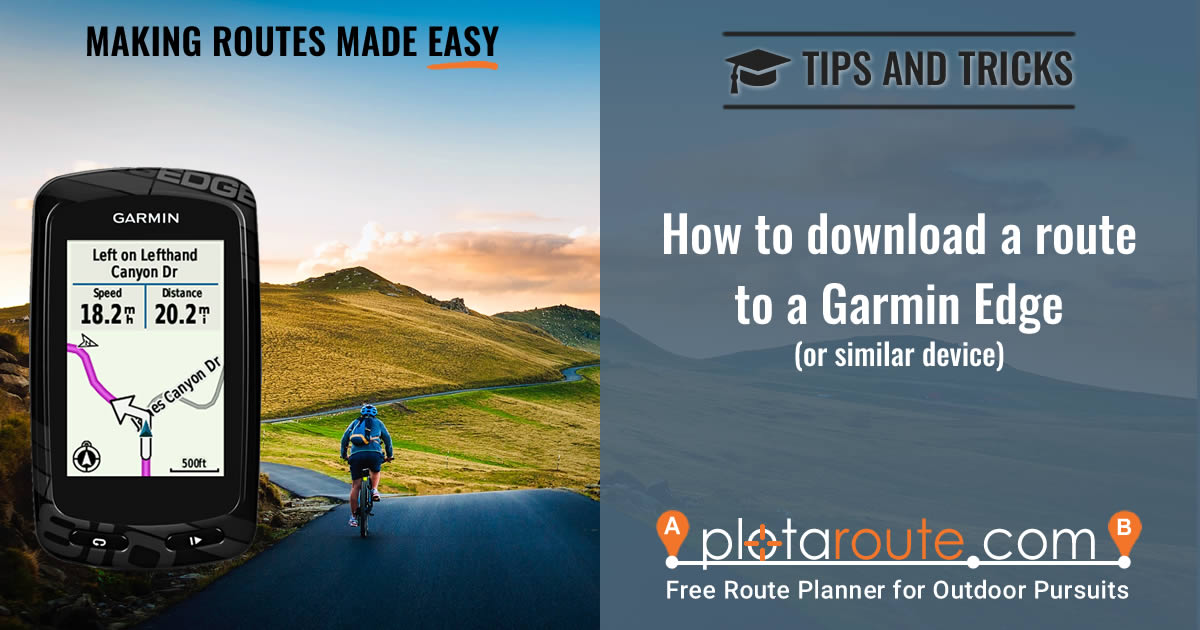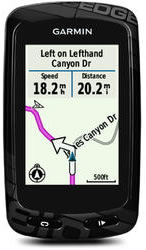 If you own a Garmin Edge
or similar Garmin device, you can follow route you've planned on plotaroute.com, using the device's navigation features. Follow these instructions to download a route to your Garmin device.
View the route you want to download on plotaroute.com (you can find all your own routes by selecting My Routes from the menus).


From the View Route page, select Download from the Menu above the map.


Choose either TCX or GPX Track file format and click the DOWNLOAD button:



TCX - includes any turn by turn directions/notes and lets you specify a Virtual Partner speed/pace


GPX - no directions or notes, just the route (less storage space needed)



Connect your Garmin device to your computer. It acts like a USB stick, so once it's ready you can open it up in Windows Explorer or the Mac Finder to see the files on it.


Copy the downloaded file to your Garmin device - the instructions for this depend on which device you have:



Garmin Edge 500/510/800/810/1000 and Garmin Touring:



Copy the file to the GARMIN/NewFiles folder



Garmin Edge 605/705:



Copy TCX files to the GARMIN/Courses folder
Copy GPX files to the GARMIN/GPX folder



Garmin Edge 205/305 and all other Garmin devices:



Files cannot be copied directly to these devices. Please use Garmin Basecamp or Garmin Connect to transfer GPS files dolwnloaded from plotaroute.com to these devices:



Garmin Basecamp



Download the roote in TCX format
Import the downloaded TCX file into Garmin Basecamp (File -> Import -> Courses)
Download the Course onto your Garmin device (Send to Device and select the correct course)

Garmin Connect

Download the route in GPX format (Garmin Connect doesn't support importing TCX courses, so it can't import any directions)
Upload the downloaded GPX file to Garmin Connect
View the uploaded activity, select "Save As Course" (click the gear icon in the top right corner to access this) and follow the instructions
Once saved as a Course, select Send to Device



To follow the route, locate it on your Garmin device and start the navigation:



Garmin Edge GPX files : you can find the route under "Where To?"
All other files and devices : you can find the route under "Courses"